Posted on
July 4th, 2008
by Chelsea D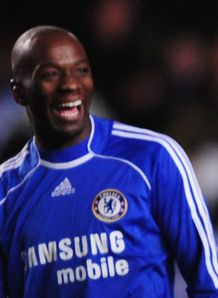 I'd always hoped that when the day came for Claude Makelele to leave Chelsea, he'd announce it just before the end of a season so he'd get the sort of send off he deserves and with a year left on his contract, I was starting to believe that would happen at the end of the coming season. However, with the rumours of a possible move to Paris Saint-Germain gathering a little more pace, I might not get my wish. Because, despite discussions in March about a coaching role at Stamford Bridge, it looks as if the Chelsea midfielder isn't ready to hang up his domestic boots just yet.
 At the start of last season, our manager at the time (Mourinho) told Makelele he wouldn't be playing him as much and true to his word, picked him only twice before leaving the club in September. However, Makelele went on to play in 18 Premier League games and his experience was again relied upon in the Champions League final. The general consensus seemed to be that Maka didn't have the legs to play week-in-week-out, although to be fair to him, he didn't exactly look exhausted playing three games in eight days before announcing his international retirement at the end of France's Euro 2008 campaign recently.
I've always felt he's been a bit of an unsung hero and it just defies belief that any player who's achievements in football include winning the Champions League, La Liga (twice), the Premier League (also twice), Ligue 1, the FA Cup, the European Super Cup and the Spanish Super Cup, never mind a player who seemed to make the break so late in life, doesn't get the credit he deserves.
I mean, how many players are so good at what they do they have a position named after them? Makelele redefined the position of the deep-lying midfielder so much so that the term "the Makelele role" is now bandied about as freely as the term "midfielder" or "defender". Makelele truly became one of the most influential footballers of his generation and what he's given to Chelsea (and football in general come to that) is something worth a lot more than Roman's millions.
Having played for Celta Vigo, Makelele really started making the headlines following his move to Real Madrid at the age of 27. Unfortunately for him though, these initial headlines weren't the sort he'd been after, with the Spanish media suggesting he wasn't good enough to replace the much loved Fernando Redondo. However, he stuck it out and truly made the role his own. So much so, that when he left Real in 2003, Zinedine Zidane declared they had lost the most valuable component in their team, and they've certainly never come close to replacing him.
Of his move to Chelsea, Maka said "Chelsea really wanted me, they fought for me and I have a lot of respect for Chelsea" and that has always been apparent. Unlike far too many players these days, throughout his time at Chelsea, Maka has pointedly used just about every excuse in the book to decline interviews with the press. He does his talking on the pitch, although it's often been so taken for granted it's as understated as the quietly spoken midfielder is off the pitch.
And despite Mourinho's decision to cast him aside at the start of last season, there is very little doubt Makelele was a fundamental part of what made Jose's 'winning' side what it was. Other teams have definitely seen the impact a player can make in the 'Makelele role' and those clever enough have adopted it for themselves. Take Manchester United, is it a coincidence that when Keane stopped firing on all cylinders, so did their fortunes? So they bring Owen Hargreaves into the role and find themselves dominant again – at our expense (coincidently while our very own Makelele played in less than half our games). Even Liverpool have Mascherano and look what happened when he got sent off against United and Arsenal, who suffered when Flamini was out injured could find themselves in some real trouble next season.
In fact no top team in football seems to operate without their own Makelele these days – the engine that just about everything seems to go through and yet this very often goes unnoticed until they're not there and things aren't running as smoothly all of a sudden. The classic example of this, of course, has to be the Real Madrid Makelele himself departed. Whilst they were struggling to find the same sort of space that had previously allowed them to bang goals in from anywhere, Stamford Bridge, with Makelele firmly in place, suddenly became a fortress, with Drogba enjoying the best form of his career.
And whilst, in the event of his departure, we still have Essien and Obi-Mikel who've had the benefit of learning from the maestro himself, for me, there really will only ever be one Makelele.
Filed under: Current Players, Rants