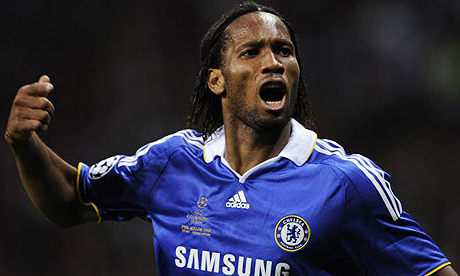 Didier Drogba is never out of the headlines too long. Whether he's wanting to leave, wishing he's punched the opposition or alternatively throwing his handbag at his own team-mates, Chelsea's Ivorian striker is just obsessed with his own self importance.
So what is it this time? I mean, he isn't getting up to much mischief on the pitch so far this season, largely down to the fact he's spent most of it out injured. And we had his version some time ago of why he actually stayed at Chelsea despite wanting to leave from the day he arrived. So what's left?
Well, this week Didier Drogba's insisting – via the press obviously – that he is fully committed to us. And whilst I've naturally been sitting here giving thanks that he's decided to grace us with his loyal and committed presence for a bit longer, I've also been reading what he's had to say on the subject.
Didier Drogba says "I made my decision to stay at Chelsea before the Champions League final. The club and the fans showed me what I wanted to see. Indeed at a certain time I wanted to leave. I said as much but you can change your mind, can't you?"
And change it he does – frequently. Because, in his explanation of why he stayed, Drogba said "It was in my head to leave but just a few days after Moscow I knew what I was going to do the next season and where I was going to be. I could not leave without winning anything, especially when we lost the Champions League final after coming so close."
A little contradictory maybe? Well of course it is because this is Didier Drogba we are talking about after all. So, it's even less surprising to hear that even after committing himself to staying at Chelsea, on the matter of a contract extension, the Ivorian isn't prepared to commit himself, saying "Do Chelsea want to keep me until 2010? So far, I am focused on my health and trying to get back to my best level again before talking about an extension."
And on his future, the eternally indecisive striker says "Going back to Marseille is still in a corner of my mind. I am serious. If I have to come back to France one day, it will only be at Marseille. That is for sure. And if I come back it will only be to win titles." And I'm sure Marseille will be only to pleased to hear that it has nothing to do with any perceived loyalty or love for the club Didier.
As for us though, Drogba says "I still give myself five good years at a very high level but today I am more concerned about stability. I want to belong to the club's history of Chelsea."
Obviously Didier, we're ever so grateful.