Posted on
April 1st, 2013
by Chelsea D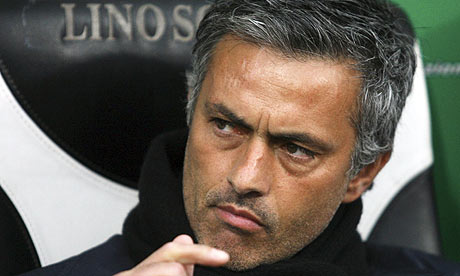 Gary Lineker might have thought he was amusing someone with his attempts at pre-April Fool's on the interim's sacking last night but for some of us, it's no joke.  
Whether it's the Mail talking about David Moyes being on Roman's wish list or the Express talking up a return of The Special One, some of us are clinging onto anything remotely conceivable now to get us through the remainder of the season with some semblance of hope for the future. Ok, the Express pushed it a bit far with talk of Ronaldo tagging along behind Mourinho but let's skim over that and just take the bits we want to believe shall we?
Moyes? Well, there might be some truth in Roman wanting him and we know he hasn't started negotiating a new contract at Everton yet but the reality of him actually taking the Chelsea manager's job is right up there with Jack and the Beanstalk.  A slightly more believable fairystory would be a return for Jose Mourinho and even that feels like clutching at straws, albeit straws I'm more than happy to make a grab at right now.
If you'd have said that to me a year ago, I'd probably have laughed because I just wouldn't have entertained the idea of Jose back at Stamford Bridge.  Whilst I know plenty of others who've wished for nothing more since his abrupt departure in September of 2007, I'd never been one of them.  For me, the writing had been on the wall for a while before he left, from some dodgy results and some even dodgier performances, to the media circus he seemed to court around him, it always felt only a matter of time before Roman's patience ran out – and with rumours of a rift with the massively influential Chelsea captain at the time, his departure spoke volumes about the real power behind the club.
That 'player power' at Chelsea is rumoured to have cost other managers since but it's something that seemed to come to a head much more publicly during AVB's short spell in charge and it seemed to bring about a tangible power shift at the club.  As key players like Lampard and Terry became less influential on the pitch, Roman seems to have dictated they have far less influence off it.  In fact, as I've already suggested recently, the addition of the interim seems to have directly equated to the subtraction of two of the most influential players in Chelsea history. Coincidence? I've never believed so.  The irony for me though, is that it's Mourinho who put them up on the pedestals they're being knocked down from in the first place.
So, why then would Roman (or a non disciple like myself) want him back? Simple, because it feels like the right thing at the right time.  Not just because quite frankly I'd probably put up with just about anyone after the pain of this season with the interim but because it's going to take something pretty special to drag our players back from the abyss they'll be left in come May. 
And no, I'm not jumping on The Special One bandwagon with some insane belief that he really can turn water into wine because even Jose has it in him to take a stunningly good attacking side like the one Ranieri left him with and turn it into a more defence-minded, doggedly determined yet somewhat less attractive brand of entertainment.  But what he can do – and we know he does well – is to take a group of players, players with a mix of class and potential, and instil the things they need to translate that class and potential into the form of winners.
Motivation, determination, passion, drive and most important of all – belief.  All things that have been missing from Chelsea this season – and all things Jose Mourinho has in bucketloads. More importantly, he makes sure his players have them.  Where our players once strutted about the pitch like they owned it under Jose, under the interim, they barely look like they belong on a pitch. More doggedly dejected than determined, the side that once never knew when it was beat now has an interim suggesting fixture lists make games impossible to win before a ball is even kicked.
So, whilst there were undoubtedly certain traits I didn't care for in our players under Jose Mourinho, I guess the one thing this season has taught me to accept is that I'd rather see them chasing referees than shadows.
Filed under: Current Players, Managers, Rants