Posted on
April 27th, 2013
by Chelsea D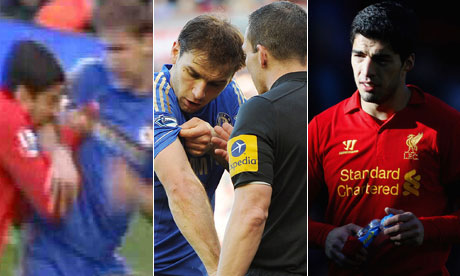 Oh come on, you knew I wouldn't be able to let this whole 'Suarez' thing pass me by without having my say on it surely?
To be honest though, as far as I was concerned (once I'd picked my jaw up off the floor) Suarez bit Ivanovic, got his ten game ban and that was pretty much that. A pretty ugly and totally bizarre incident and fortunately not one we see routinely in the game, but it was dealt with in a timely way with a punishment that reflected the gravity of the misdemeanour.
We move on.
Liverpool though, don't see it quite the same way. From the current to former manager, players and supporters, yet again they see themselves, their club, as the victims in all this. Sod the fact that one of their players sunk his teeth into an opponent for God knows what reason last weekend, as far as Liverpool are concerned, they're the injured party here.
Brendan Rodgers (what the hell has happened to that man by the way?), no doubt as "shocked and disappointed" as his club at the ban, came out with "You can only compare it with similar incidents we've had. There have been two similar incidents both in 2006. One player (Tottenham's Jermain Defoe) received no ban and has continued to be picked by the FA for the England team. The other player (defender Sean Hessey, who was charged for biting in a game between Chester City and Stockport County in 2006) received a five-game ban. So when Luis receives a 10-game ban it's hard to understand.  I honestly believe the punishment has been made against the man and not the incident."
As we know though, with Defoe, this incident was seen by the ref and deemed to be dealt with at the time, so according to the rules of the game (whether we agree with them or not), the FA can't then deal with it retrospectively.  And in looking at either of those two offences you have to take into account they were 7 years ago – so a lot of time, and FA punishments have gone by since then. If offences continue to happen in spite of precedents set before, then surely the increase in length of bans should reflect the FA's desire to stamp it out?
As for Rodgers' suggestion that "the punishment has been made against the man and not the incident", surely that's the point? This isn't a first offence we're dealing with here? In fact, just 2 years ago in his last game for Ajax, Luis Suarez bit PSV Eindhoven midfielder Otman Bakkal. Of course the fact that he received a 7 match ban for that and still repeated the offence would and indeed should have been taken into account in giving him 10 games this time.
It's all very well Dalglish bleating "If you commit a crime in this country, you get the right for your case to be heard by a jury that has no affiliation or responsibility to the people prosecuting you", but we all know the FA don't reflect (or even pay attention to) the law of the land.  The bottom line is, if a professional footballer steps outside of the boundaries set by the Football Association, irrespective of the law, they know their punishment will be set by an FA panel. The similarity, of course, will be that should the offender repeatedly step outside those boundaries – to the point whereby the governing body are probably considering getting him his own chair – then it stands to reason that will also be reflected in any punishment dished out.
Probably the worst defence I've heard coming out of Liverpool so far though, was that of Jamie Carragher.  Whilst suggesting 'we' should be 'helping' rather than 'hounding' Suarez for wrapping his teeth around the arm of an opponent, Carragher appeared to accept his team-mates behaviour was not that of a professional, stating "You simply don't expect to see a grown man bite another grown man – that is behaviour you would associate with nursery school" – which should surely concern any parent about to place their children in the hands of any of the kindergartens he may have frequented. But whilst Carragher seemingly acknowledges non-accidental biting is clearly not a part of the game, he says "Was it worse than a challenge that could end someone's career? I know what it is like to have your leg broken by a reckless tackle. Lucas Neill cost me six months of my career in September 2003 when he played for Blackburn. Would I have preferred to have been bitten? Absolutely."
Oh dear Liverpool, oh dear.
Filed under: Current Players, Rants, Rivals