Posted on
June 15th, 2013
by Chelsea D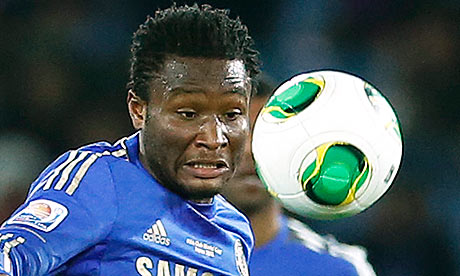 John Obi Mikel is one of five senior players remaining at Chelsea from Jose Mourinho's first spell in charge and he's certainly one Mourinho went to great lengths to have in his ranks.  From the long, drawn out battle to get him on the pitch in the first place, to the fight to address his attitude and behaviour off it, a lot of effort went in to settling Mikel at Stamford Bridge. 
To be fair to Mikel though, he didn't have the best of starts at Chelsea. Amidst claims of 'kidnapping' after a suspiciously quick press conference showing off his United shirt and squad number, a 'ransom' was issued that saw us pay United and Lyn Oslo off for the privilege of another press conference holding up a Chelsea shirt.
As if all that nonsense wasn't enough to send him off the rails, he then finds himself played as a defensive midfielder despite, by his own admission, being as familiar with tackling as Gordon Cameron is with the breadline. Small wonder then that Mourinho had a job on his hands to settle Mikel into the role.
Mikel recalls "Jose was the one who went to the team and said, 'I want this boy, I want this player'.  The club were saying 'we're fighting a lost battle' but he kept going. He tried as much as he could to change my personality, my game. Every time I did something wrong, every mistake I made, he would get Didier Drogba to talk to me. I was off it, I didn't know what I was doing. It was hard for me to take responsibility. I'd never been at a professional club. I'd only been at Lyn for a few months and things weren't done professionally like they are here. I came into training late, I wasn't wearing the right things. It was just crazy and every time I did something wrong Jose would speak to Drogba or Geremi and get them to speak to me.  These guys tried to make me understand that I was at a professional club and had to take responsibility. I think that's what I did, made changes to my game and to my professional conduct."
And to be fair to Mikel, he did turn it around. Of course, he would always have a lot to live up to because replacing the irreplaceable Claude Makelele is a massive ask for any player, without Michael Essien standing in your way as well. But Mikel has always had to bide his time at Chelsea, often overlooked by the many managers wandering in and out, he's had to perfect the art of being patient – and that paid of with Carlo Ancelotti. 
Under the tutelage of Ancelotti, Mikel relished the opportunity to resurrect the attacking side of his game, dropping the 'crab' comparisons for his previous apparent inability to pass anywhere but sideways and from there, he just became a more rounded midfielder – an asset defensively, protecting the back 4 but also pretty competent at getting the ball forward as well.
At the back end of our Champions League winning season, Obi Mikel was without doubt one of our best performers. Plagued by injury last season – and a manager who clearly didn't favour him – Mikel had just 19 starts. The fact we were so poor defensively in a season where he figured for just half of our league games is probably no coincidence.
I still think he's largely underrated, although in December 2012 he signed a five year contract, so the club must have some belief in him and at 26, he's not over the hill either but with Galatasaray knocking at the door, will Jose Mourinho put up the same sort of fight for Mikel this time around?
Filed under: Current Players, Managers, Rants, Rumours