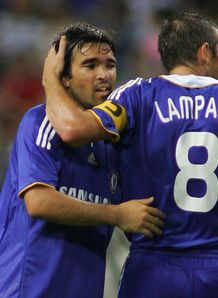 It's fair to say a few of us have had the odd moan about Deco this season and certainly from what I've seen, after a blistering first month to his Chelsea career, he hasn't looked anywhere near as good since. I mean, he pulled out of the side before the United game and he just hasn't looked up for it since.
Give him an away game, with plenty of time and space on the ball and he looks great but play him at Stamford Bridge where our players are constantly closed down, given no time for fancy football and occasionally roughed up a bit, and he just doesn't seem to fancy it.
Frank Lampard however, suggests we should be a little more patient – even going as far as comparing Deco to former Chelsea legend Gianfranco Zola. Now, I don't know whether I'm being cynical here or whether it's just that no one's ever come close to Zola for me at Chelsea, but I'm finding it a little hard to take Lampard's comparison seriously.
Of Deco Lampard says "He's a top player – you only have to look at what he's done in his career and what he did in his first four games here.  Like all of us in the last few games, we haven't played at our top level. But people have to stick with Deco because he can make something special. He has that Zola thing about him where he can find a pass. At the moment they are not all coming off but when they do he could be the key that helps unlock the door in home games."
Lampard goes on to say that it's a bit unfair to single Deco out when no-one's played particularly well lately (and I have to agree with him there), suggesting "Yes, he's not going through his best time at the minute, same as a lot of us, but he'll come good.  He's come from La Liga and it's different here, it's quicker and more physical and that's something he has to take on board. It's not easy."
I'm not sure whether to hold my breath or not though. What about you lot?