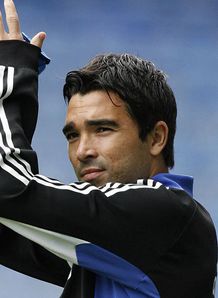 I remember having my doubts about Deco when we signed him. I didn't like him from his time at Porto, regarded him a cocky, cheating little shithead and at 30 years of age, wasn't convinced he'd cope with the Premier League.
His scorching start for us, definitely had me sitting up to take notice and despite his poorer performances since that time, he's done nothing to suggest he'd brought the old Deco attitude to Chelsea with him. Until now that is.
In a recent interview, the midfielder has talked about his future stating "I've been thinking of returning to Brazil for a while now. But I've realised I can still achieve good things (in Europe). I don't want to return for the sake of it. I'm under contract at the moment and I want to be happy to play my football.  I still have three years left on my contract with Chelsea. If I remain there until the end, it will be my last contract in Europe."
Not a lot wrong with that to be honest, he can do what he wants with his career. But it's the remainder of the interview where he's questioned about his relationship with Scolari that bothered me. Because he says "Today, we [Deco and Scolari] work together on a daily basis, which is a good experience. He's a fantastic person and it's very easy to get on well with him. "[Saying Deco's relationship with his coach helps him play regularly] is nonsense. I already won many titles without Scolari throughout my career. I was never on the bench, always started games, and Scolari wasn't the manager of my previous clubs. That's why I don't need to defend myself."
He's already admitted he's struggling with his fitness and form for us, so whilst he's never been a sub before that doesn't mean he doesn't deserve to be one now. Or does he just miss the point?