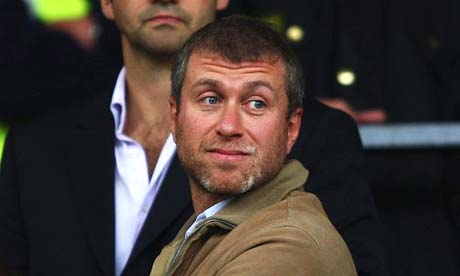 Rumours seem to be increasing that Roman Abramovich has not only fallen out of love with Chelsea but he's actually looking to sell up.
The latest we're hearing is that he's been meeting Gulf Arabs and members of the Saudi royal family in an effort to offload us at the best price.  City sources reckon that even though the "going rate" would be about £500million, Abramovich would be looking for somewhere in the region of £800million.
Abramovich's wealth is said to have reduced drastically and the suggestion is he needs to sort out his immediate cash flow. And whilst I find it difficult to believe the Russian is so hard pushed for money he needs to sell the club, he doesn't exactly help matters by leaving before the end of games, when we're 1-0 down and misses us fighting our arses off to come back and win at the death.
However, despite 'a source' saying "Abramovich's team have been out in the Middle East sounding out what interest there is in buying the club", Peter Kenyon insists Abramovich has no intention of selling Chelsea. The Chelsea chief executive says "There has been a lot of rumour and speculation surrounding Chelsea and the owner's commitment to the club. I can assure you on his behalf that this is totally unfounded and anything else you might read about this is rubbish. Chelsea is not for sale. The owner has not and is not looking to sell his interest in the club and he remains as committed as ever."
The fact that it's Kenyon who's said it makes me nervous in itself somehow and I can't think of anything worse than being sold to the Arabs.