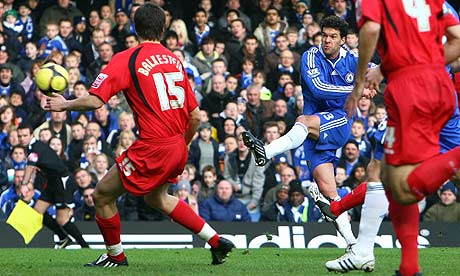 CHELSEA 3-1 IPSWICH
I didn't get to see this one yesterday, courtesy of work, so I haven't got much to go on except what I've read and a few highlights.
So briefly then, looks like we had a nervy start, again missing early chances and despite taking the lead through Michael Ballack on 16 minutes, yet again cocked up a set-piece and conceded an equaliser. Second half went a lot better though, with a lovely free-kick from Michael Ballack putting us back in front. We were definitely dictating the game by then, with the nerves apparently settled and the only downer was the now familiar sight of Ricardo Carvalho's early exit with a hamstring injury. A better sight was to come though, when, on 84 minutes Frank Lampard scored a screamer of a free-kick from 30 yards to finish the tie 3-1.
TEAMS
CHELSEA: Cech, Bosingwa, Carvalho (Ivanovic 70min), Alex, Ashley Cole, Belletti, Ballack (Deco 79), Lampard, Malouda (Drogba 58min), Kalou, Anelka.
IPSWICH: Richard Wright, David Wright, McAuley, Bruce, Garvan, Miller (Quinn 81min), Counago, Norris, Balkestein, Haynes (Lisbie 60), Walters (Stead 71min)