Posted on
June 9th, 2013
by Chelsea D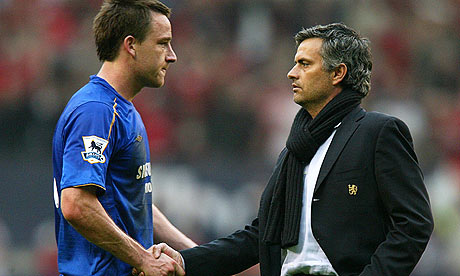 I said a few times last season, the interim's appointment was probably part of a bigger agenda and some of the things that have happened since 21st November 2012 would certainly seem to support that theory.
I mean, it wasn't that long ago our 'bigger', more influential players had everything pretty much their own way. They could hold the club over a barrel for money, walk straight into the team week-in-week-out and have managers out the door if they didn't suit.
The appointment of the interim signalled a complete change to all that though. Out went the idea that any of our players are indispensible, with Roman finally seeing some sense when it comes to our over 30s and both Ashley Cole and Frank Lampard settling for 12 month contracts.  Out went the belief that names like Terry, Lampard and Cole are the first on the teamsheet every week. And without a shadow of a doubt, out went any hope of player power forcing the interim out before his contract was up.
As far as Roman would have been concerned, it mattered not one iota that neither players nor supporters were happy with the interim, or the decisions he was making because after the very public, and very unsavoury AVB episode that led to the appointment of the more popular Robert Di Matteo (probably against his better judgement), Roman was letting everyone know who's boss. Not only that, but he was putting someone who'd previously shown a distinct lack of respect for Chelsea and our senior players, to do the dirty work for him and take the abuse for it on a weekly basis.
So, six months down the line and with once major Chelsea players like John Terry and Frank Lampard already well within a process of being phased out, instead of kicking up a fuss as we may well have done a year ago, here we are all happy and smiley because Roman's given us Jose Mourinho back. Pretty shrewd eh?
And now it's John Terry's turn.  Once such an influential figure at Chelsea, yet clearly a player affected by the interim's period in charge. Even when he was fit he often wasn't played, particularly in the big games. Little wonder it's suggested he didn't exactly see eye to eye with his former 'boss' and is delighted Jose's come home. Mind you, given their alleged falling-out directly preceding The Special One's departure in 2007, does JT really feel confident with Mourinho getting the last word on his contract?
I'm not suggesting Mourinho will have security remove the Chelsea captain from the grounds  as soon as he gets there because  he's already acknowledged the importance of their presence, saying "I like the fact that we still have four or five players from the beginning of the winning Chelsea.  It's very important for this football club to always have them as a part of the Chelsea soul." 
I do wonder whether there'll be more of a discreet move towards the back door though, with a gentle nudge here and there over the next 12 months because, in spite of Terry's clear displeasure at his fading status, Mourinho is just as clear it's form rather than fame that influences his decisions, saying "I am a coach who looks for a meritocracy. Whoever I think is best must play – without looking at status or the past.  You play as you train. It is a normal situation.  As it was normal for me to leave (Marco) Materazzi, a mythical player at Inter Milan, on the bench. Or like Benitez this year at Chelsea with Terry."
Filed under: Current Players, Managers, Rants